Hyatt Regency Waikiki Beach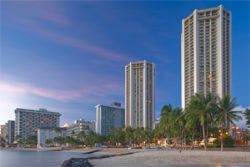 Hyatt Regency Waikiki Beach
This resort is located across from Waikiki Beach and offers extra-spacious, 500 square-foot accommodations. Sleep in serene comfort in plush, pillow-top Hyatt Grand Beds, fitted with luxurious linens and irresistible pillows. Unwind at the Na Ho`ola Spa and explore more than 60 shops and boutiques. Come experience the perfect blend of sun, surf and fun, visit historical sites, and witness a diverse display of arts and culture.
...

Pleasant Holidays, in business since 1959, is one of the leading travel companies serving Hawaii, Mexico, the Caribbean, Costa Rica, Continental United States, Tahiti and the South Pacific, sending more than 350,000 visitors to its destinations annually from over 260 cities nationwide.
From the design to the operation of our travel programs, our commitment is to provide you with an enjoyable and memorable journey. Our dedicated, knowledgeable, and well-trained team has perfected thi
...